If the visual effects of cataracts are interfering with your ability to perform daily tasks or keeping you from your favorite hobbies, cataract surgery can restore clear vision.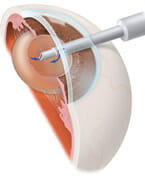 Nearly 4 million cataract surgeries are performed every year. There are a few different ways to perform cataract surgery and, after the team at Northern Ophthalmic Associates learns more about your visual condition, lifestyle and preferences, we can recommend the best option for you.
Traditional Cataract Surgery
Traditional cataract surgery is one of safest surgeries performed today. It is virtually painless for patients, with a rapid visual recovery. The success rate for traditional cataract surgery is very high and the vast majority of patients are extremely satisfied with their results.
Prior to the procedure, the eye is numbed with anesthesia. The cataract surgeon makes a small incision in the corner of the eye to access the capsule that holds the lens. The lens is carefully fragmented with ultrasonic energy and the pieces are removed with gentle suction.
Once the natural lens has been completely removed, an artificial lens (IOL) is inserted through the initial incision. The IOL is carefully positioned in front of the pupil to restore clear vision and sharp focus. To complete the procedure, the surgeon closes the incision with a small stitch.
Laser Cataract Surgery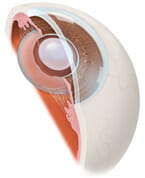 Laser cataract surgery builds upon the already-superb safety and success rate of traditional cataract surgery. Most of the steps of the cataract removal process are performed with or assisted by a femtosecond laser instead of traditional surgical instruments. Performing these steps with a laser enhances the predictability and precision of treatment while reducing some of the risks.
To begin the laser cataract surgery procedure, advanced imaging technology is used to help plan out the location and depth of the initial incision. These details are programmed into the femtosecond laser that creates the incision. Not only is the incision more accurate when created by a laser, but it is more likely that the incision seals itself after surgery.
The next step of surgery is to open the capsule and access the lens. The femtosecond laser creates a very precise circular opening in the lens, keeping as much of it intact as possible. It's important to maintain the integrity of the capsule because it later holds the IOL that replaces the lens.
Then, the energy from the laser gently breaks up the lens into small pieces. The laser is less likely to build up heat than ultrasound energy used in traditional cataract surgery. This reduces the risk of burning the incision and compromising the visual outcomes of surgery.
After the laser has fragmented the lens, the rest of the procedure proceeds similar to traditional surgery. The pieces of the lens are removed, and the IOL is positioned within the lens capsule.
Learn More about Cataract Surgery
If you would like more information about traditional or laser cataract surgery, please contact Northern Ophthalmic Associates and request a consultation.