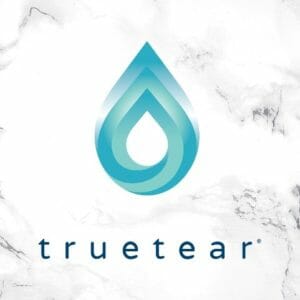 Northern Ophthalmic Associates is committed to giving patients with dry eye syndrome much-needed relief from uncomfortable and irritating symptoms. We now offer TrueTear® from Allergan, which is a breakthrough drop-free, drug-free treatment for dry eyes.
The first of its kind, TrueTear uses state-of-the-art neurostimulation technology to gently coax your tear glands to produce your own tears. In a clinical study, patients that used TrueTear saw a 2.5x increase in tear production compared to patients that did not use the technology.
How Does TrueTear Work?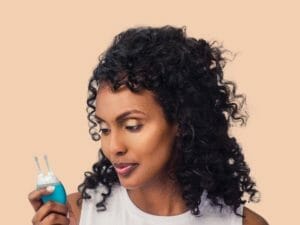 TrueTear is designed to work by stimulating the nerve in your nasal cavity, near the bridge of your nose. It delivers gentle pulses of energy to the nerve, which in turn sends messages to the brain. The brain responds by telling the tear glands to temporarily activate tear production.
The small, portable TrueTear unit is meant to be used in the comfort of your own home or easily on the go. A disposable tip snaps onto the reusable base unit, which produces the neurostimulation needed to prompt tear production.
After turning on the base unit and selecting your desired strength, you should insert the tip into your nostrils and guide it up toward the bridge of your nose, where glasses would normally rest, and tilt the tip away from your face. Once it has reached its "sweet spot," the tip will deliver gentle pulses of energy to the nerve. If you feel gentle pulses, it means that TrueTear is working as it should. The sensation should not be uncomfortable or painful. You might sneeze or feel like you need to sneeze — this is very common.
You should keep the tip in place until you feel natural tears starting to pool in your eyes.  Do not use for longer than a minute. Be sure to clean the tip after use and replace it every 48 hours.
The levels of intensity can easily be adjusted to your own personal comfort. If you don't feel a gentle pulsation, you should increase the level of intensity until you do.
You should use TrueTear at least twice a day as needed. The system is small, unobtrusive and portable, so it can easily fit into your daily routine.
Are You a Good Candidate for TrueTear?
You may be a good candidate for TrueTear if you are least 22 years of age and have dry eye from inadequate tear production. You should not have a pacemaker, wearable defibrillator or other implanted metallic or electronic device within your head or neck, as these are contraindications for TrueTear. You should not have chronic or recurrent nosebleeds or a bleeding disorder/condition that could increase your risk of bleeding.
Learn More about TrueTear
If you are experiencing the uncomfortable symptoms of chronic dry eye syndrome due to inadequate tear production, the team at Northern Ophthalmic Associates can help. We can evaluate you and recommend whether TrueTear or another dry eye treatment is likely to give you relief from your symptoms. To schedule an appointment with our dry eye treatment team, please call or email our practice today.