KAMRA Inlays, Refractive Lens Exchange, & Visian Implantable Contact Lens
If you want freedom from glasses or contact lenses, but you do not qualify for LASIK, the team at Northern Ophthalmic Associates can help you take another path to vision correction. We offer several safe and effective LASIK alternatives, such as the KAMRA corneal inlay, refractive lens exchange (RLE) and ICL, which deliver extraordinary long-term visual results. After evaluating your specific visual needs and goals of treatment, Dr. Mark Pyfer can recommend the most appropriate treatment option.
KAMRA Inlay
The KAMRA inlay is a very small insert placed in the eye to correct and restore clear near vision for individuals between 40 and 60 years of age. The inlay is smaller and thinner than a contact lens and shaped like a ring with a tiny opening in the center. The opening blocks out unfocused light and only allows focused light into the eye, so objects up close (e.g., smartphone, newspaper) become clearer.
KAMRA inlays cannot be felt in the eye. They are constructed from a biocompatible material known as polyvinylidene fluoride. The KAMRA is designed to offer long-term performance to help you enjoy clear near vision over time. Unless there is a change in vision prescription or the development of cataracts, KAMRA inlays can last a lifetime.
Refractive Lens Exchange
Refractive lens exchange (RLE) is very similar to cataract surgery in that it replaces the eye's natural lens with an artificial lens to reduce or eliminate farsightedness (or other types of vision problems). RLE is usually recommended to individuals with abnormal corneas or refractive errors that cannot be corrected with laser eye surgery. It enables people with mild cataracts to have refractive surgery and eliminates the need for cataract surgery in the future.
Unlike cataract surgery, which removes the natural lens that has become cloudy and opaque because of cataracts, the lens removed in RLE is clear. There are different types of artificial lenses that can replace the natural lens, including monofocal lenses that provide clear vision at a single fixed distance, multifocal lenses that provide clear vision at multiple distances, and accommodating lenses that work with the muscles of the eye to focus at multiple distances. The lenses placed in RLE are designed to be permanent, lifelong replacements.
Visian Implantable Contact Lens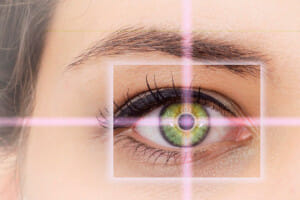 Visian is an implantable contact lens (ICL) that can be used to correct moderate to severe nearsightedness in people that do not qualify for laser eye surgery. Implantable lenses improve vision like removable contact lenses, except they are surgically placed and work from inside the eye. It is virtually impossible to notice or feel an ICL in the eye and they require little to no maintenance.
Visian lenses are made of biocompatible collagen copolymer and designed to sit behind the iris and in front of the natural lens. They are flexible and easily folded up, requiring only a tiny incision for placement.
Contact Northern Ophthalmic Associates Today
Are you ready to take the first step toward clearer vision and freedom from visual aids? Call or email lasik@northernophthalmic.com to request an appointment with our team. We can evaluate your vision correction needs and goals and recommend the most suitable solution.