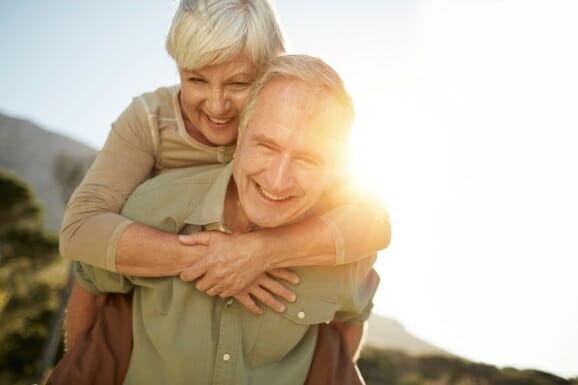 Intraocular lenses are implanted in the eye during cataract surgery to replace the cloudy natural lens and restore clear vision. For many years, cataract surgery patients had limited choices in intraocular lenses. Patients selected a lens to restore clear vision at a single, fixed distance and objects at other distances were out of focus; to compensate, patients wore eyeglasses to see clearly at other distances.
Today's lens technologies offer more choices for superior vision after cataract surgery. Northern Ophthalmic Associates offers leading lens implant options — including the best-in-class Symfony lens — to accommodate a wide range of patient needs.
Together, we will help you select the lens best suited to your visual needs, lifestyle and personal preferences so you can enjoy clear vision and better quality of life after cataracts.
Standard/Monofocal Lens
Standard monofocal lenses restore focus at a single distance (up close, intermediate range or distance). Many cataract patients with monofocal lenses opt to have them set for distance vision, and then wear eyeglasses to see up-close. Monofocal lenses are the most common type of lens used in cataract surgery and are usually covered by insurance.
Toric IOL
Toric lenses are premium lenses designed for individuals with astigmatism, which is a refractive error caused by an unevenly curved cornea or lens. Toric lenses simultaneously correct astigmatism and restore clear focus after cataracts.
Limbal Relaxing Incisions
Another way to treat astigmatism in cataract patients is with limbal relaxing incisions, either performed as a stand-alone solution or combined with the placement of a toric IOL. Limbal relaxing incisions are created manually or with a laser at the edge of the cornea. The incisions relax the corneal curvature to correct its abnormality and improve the cornea's ability to refract light. Limbal relaxing incisions also optimize the function of IOLs to provide a wider range of vision correction after cataract surgery.
Symfony IOL
The Tecnis Symfony IOL is a revolutionary lens that restores clear vision after cataracts while mitigating the effects of other visual conditions. It is highly recommended for the patient that wants to enjoy an active lifestyle without visual limitations.
Many patients experiencing the visual impairments of cataracts also have difficulty focusing on objects at near distances because of presbyopia, which is the age-related decline of reading vision. The Symfony lens offers high quality, seamless vision at near, intermediate and faraway distances, and all points in between, in virtually all lighting conditions.
The Symfony is the first and only IOL to provide continuous extended-depth-of-focus (EDOF). With its unique pattern of light diffraction, the Symfony creates a single elongated focus, instead of bringing one image into focus while suppressing images out of focus. Because of its design, the Symfony lens reduces the likelihood of visual symptoms like halos and glare, which are commonly associated with other IOLs.
There is also a toric version of the Symfony lens to correct pre-existing corneal astigmatism (an irregularly shaped cornea).
Crystalens
Bausch + Lomb's Crystalens AO is considered an accommodating lens, which means that it works with the muscles of the eye to extend the range of clear vision after cataract surgery.
In a normal, healthy eye, the ciliary muscle surrounding the lens helps to adjust the focusing power of the eye. When the ciliary muscle is relaxed, the lens flattens for clear distance vision; if the muscle contracts, the lens thickens and curves to magnify objects for clear near vision.
The Crystalens is designed with special peripheral legs, called haptics, which keep the lens secure inside the capsule and enable it to shift forward, like a natural healthy lens, to focus on near objects.
Patients that opt for the Crystalens typically enjoy clearer vision after cataract surgery and independence from eyeglasses.
ReStor
Multifocal lenses like the AcrySof IQ ReStor offer complete visual freedom after cataract surgery. Patients can see clearly up-close, faraway, and every focal point in between, in all lighting conditions.
ReStor lenses work by distributing light to distance, intermediate and nearby focal points, based on the amount of light available. The lenses have special features to reduce the occurrence of visual aberrations and improve image quality.
Learn More about Your Intraocular Lens Options
To learn more about your intraocular lens options after cataract surgery, please call or email Northern Ophthalmic Associates today.